Identifying the most effective area for intervention is only the first step. Creating the mechanisms and incentives to keep forest standing, and to encourage forest restoration, is what can transform today's largely degenerating forest frontier into a productive, resilient and globally valuable forest economy. Creating such an economy requires a combination of well-enforced regulatory and fiscal policies and socio-economic incentives that reward sustainable management and protection of forest more highly than single-use extraction.
In the tropical forest context, regenerative models generate value from the protection and restoration of forests. In doing so, they provide tangible incentives to keep forests standing,
or even to regrow them over time. Accoring to a research commissioned by the Food and Land Use Coalition,  the varied models which exist can be grouped into three key categories:
• Models which create value from standing forest
• Models that incorporate forest protection into agricultural production
• Models which create value from re-growing degraded forest
Therefore, for each of the land categories described in our "Sealing the forest edge where it is currently exposed" article, – standing forest, the agricultural zone and the degraded zone – a corresponding category of regenerative business model exists.
Category 1: Creating value from standing forest
WHAT ARE "VALUE FROM STANDING FOREST" MODELS?
These models depend upon harnessing the high variety, value and productivity of naturally growing forest products and environmental services in standing primary forest. They do not include timber plantations or other forms of man-made, plantation forests. When implemented, high-value, low-intensity value chains are created. They are high-value because the products and services which are produced by intact forests generate high market value per unit, and low-intensity because the impact on forest is minimal or almost non-existent.
WHY ARE THEY SO IMPORTANT?
The ecosystem value of primary forest is higher than any man-made attempt at recreating or mimicking it. Preserving standing forest has a twofold, additive impact: not only does it maintain the extraordinary array of products and services provided by forests, it also prevents the negative impacts of their disappearance (which produce some of the most harmful environmental impacts on the planet). Furthermore, standing tropical forest provides the home, livelihoods and cultural heritage of millions of indigenous community members.
Category 2: Agricultural intensification with a mandate to protect and preserve
WHAT ARE "AGRICULTURAL PRODUCTIONPROTECTION" MODELS?
These models involve improving production efficiency, and therefore reducing the environmental impact, of agricultural activities in proximity to forest landscapes. To do so, improved agricultural practices (particularly sustainable intensification) are combined with effective land use planning, robust local governance and incentive and reward mechanisms for forest protection. The result is increased productivity per hectare, the protection of forest with highest conservation value and in some cases the restoration of previously degraded land. As sustainable intensification is implemented, a gradual shift towards regenerative agriculture is required. This has the potential to maintain yields, while at the same time promoting soil health, reducing use of chemical inputs, and increasing the diversity of healthy, planetfriendly foods produced and consumed. Productive regenerative practices combine traditional techniques, such as crop rotation, controlled livestock grazing systems, low-till agriculture and cover crops, with advanced precision farming technologies and new bio-based fertilisers and pesticides. New technologies that drive productive regenerative agriculture are continually emerging.
WHY ARE THEY IMPORTANT?
Agricultural expansion, both by smallholders and larger organisations, is the dominant driver behind more than half of all tropical forest loss. Finding business models that can both deliver enhanced agricultural output and mitigate forest loss can deliver "triple wins": rural development; domestic economic growth; and protection and restoration of forests on a large scale (and all their associated benefits, including those directly necessary for agricultural production such as water cycles, pollination, etc.)
Category 3: Creating value from forest regrowth on degraded land
WHAT ARE "VALUE FROM FOREST REGROWTH" MODELS?
These models centre on restoring previously degraded land and returning that land to a state that is as close as possible to natural forest. They use a diverse mixture of regrowth vegetation that increases both above- and below-ground biodiversity and biomass. They do not include monocultural plantations. By mimicking natural ecosystems, and by working with species that are particularly well suited to specific environmental conditions, forest regrowth models can restore increased environmental and economic productivity.
WHY ARE THEY SO IMPORTANT?
There is an estimated 100 million hectares of degraded land within the forest frontier alone. The natural productivity and value of this land has been severely impacted, reducing its economic, social and environmental value. Restoring degraded land can support livelihoods and increase economic productivity by restoring soils and water, deliver climate change mitigation by sequestering carbon and enhance biodiversity and other key ecosystem services outcomes (clean water, reduced erosion, enhanced soil fertility, etc.).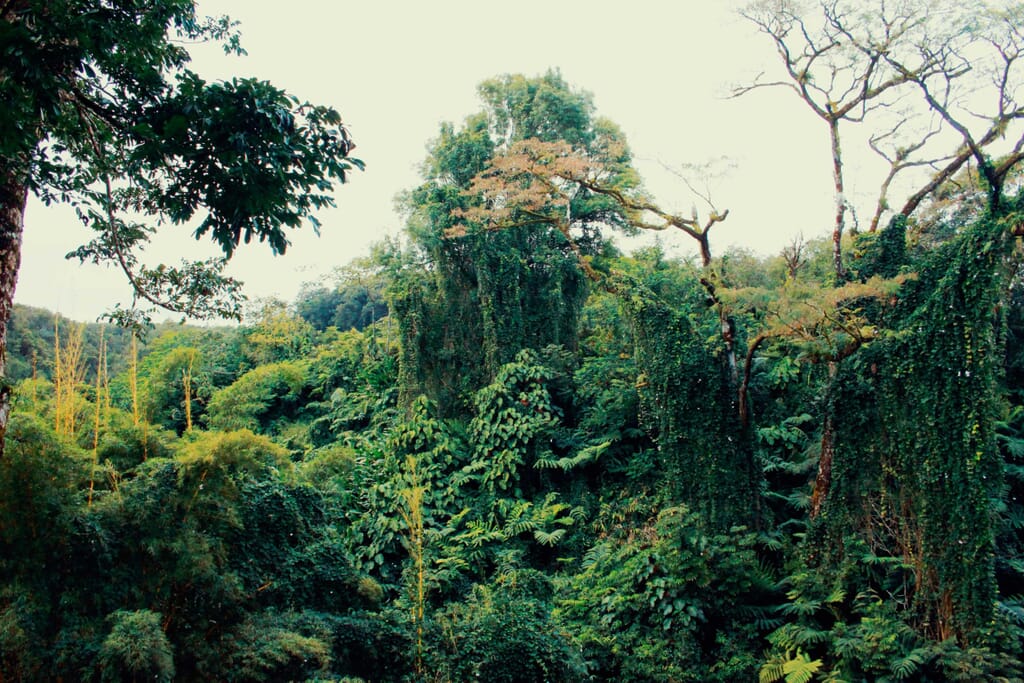 Let us achieve our climate ambitions together.
We can mitigate the impact of global climate change together.
Contact